The Holocaust Album
Ron Greene

---
Visas for Life: The Remarkable Story of Chiune and Yukiko Sugihara
---
"If you save the life of one person, it is as if you saved the world entire."
-- Jewish Proverb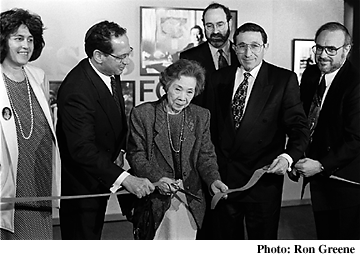 Mrs.Yukiko Sugihara opening the Visas for Life exhibit at the Simon Wiesenthal Museum of Tolerance in Los Angeles, California. January,1995.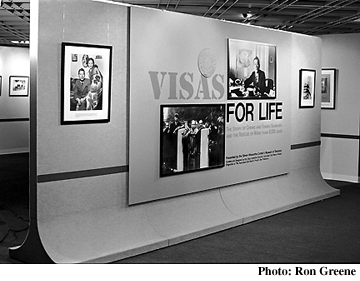 "The Jews, who had passed through Kaunas, still treasure the visas which my husband had issued. They didn't forget what they shouted when we were leaving Kaunas station. 'We will never forget you. We will see you again.' I heard that, as a people, the Jews never forget a promise."


--Yukiko Sugihara
As you view this exhibit, you might want to ask yourself: "What would I have done under similar circumstances?"
---
| Visas For Life Text |
| HomePage |
| Next Photograph |
Copyright © 1995-1998 Eric Saul and the Sugihara Family Trust
All Rights Reserved